71.4V 6A 7A 8A 9A 10A Lithium-ion Battery Charger For 60V 63V Ebike Motorcycle Battery Pack Power Supply
Price:
$93.89$149.99 / piece
71.4V 6A 7A 8A 9A 10A Lithium-ion Battery Charger For 60V 63V Ebike Motorcycle Battery Pack Power Supply

General specification
Input: AC 100-240V
Battery Cells: for 60V 63V Lithium-in Battery pack
Output: 71.4 6A/7A/8A/9A/10A
Charger Type: CC and CV
Size: 205*121*100mm
Battery Charger Case Material: Aluminum
Cooling Way: Built-in Fan
Certificate: CE SAA FCC ROHS
Operating Temperature: -20 to 60 Degree
Operating Humidity: 20 to 90%RH
Storage Temperature: -40 fo +80 Degree
After-sales service: 36months Warranty

Protection
Over current protection
Over voltage protection
Short Circuit Protection
Reverse Connection Protection


Usage Introdction


Dual color LED indicator:(Charging:Red; Fully charged or no load:Green)
Light weight and compact
High efficiency and low power consumption
Package:
1 x 1pc 71.4V 6A/7A/8A/9A/10A Lithium-ion battery charger
Advantages
1. The case is made of aluminum alloy ,which has good heat dissipation. The product has four built -in electric fans, forming a double convection system.
2. Four sets of circuits are connected in parallel, one of which is damaged, and the product can continue to work, increasing the service life of the product.
3. It contains filters inside, so that the charger makes anti-jamming performance much strengthen.
4. There is a potentiometer, it can adjust the voltage within a certain range.
5. The product internal circuit contains fuse, the whole circuit overload protection effect
Characteristics
● Protection function: Over voltage/ Over temperature/ Over current
● The indicator of LED: Red is charging, green is charge finished or prepare charging
● Stable, High-Efficiency, Safe, etc. Precise limit of voltage & current, qualified fully charged and avoid over charge
● Using aluminum heat sink, Good thermal design, can better cool the power device, Consistent with the principle of hot air flow, extend the service life
● The main power transformer adopts EC40 core, PC40 material, High efficiency, low iron loss, Enough power capacity, Have sufficient power margin.
●Input and output filter electrolytic capacitor use withstand temperatures -40 to +105℃, with Low Impedance, High reliability, Long useful life, High ripple capability, etc features.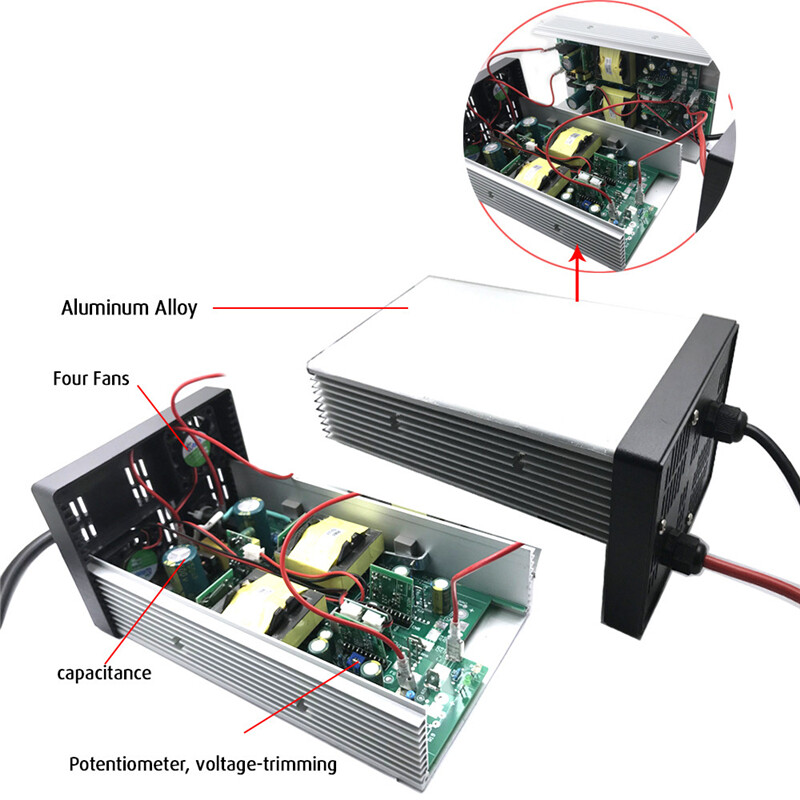 How to use:
1. Should be checked before using the battery charger is consistent with the type of charger model is correct. If the model is not matched, charging may be abnormal and the battery may be seriously damaged.
2. Should be properly connected battery Do not reverse polarity! (Red + Black- or Brown- Blue + or Red + Blue -).
3. Then the AC plug in the AC outlet, then the charger starts to charge the battery, charging status LED color light displayed by the top of the charger(The indicator of LED: red is charging, green is charge finished or prepare charging). If the green light is always on, check that the charging cable is firmly connected to the battery.
4. Full of voltage, first unplug the charger's power plug, then unplug the battery plug.
Our advantages
1. We are a factory company, which can provide competitive prices, direct technical instruct, customized production and professional after-sales service
2. Positioned on the world- class enterprise. our products are mainly for European and America high-end market, all makes us insist on Quality first!
3. Chargers here are high quality, intelligent, stable, portable, small size, light weight and approved by CE, ROHS
4.Our team have high degree and rich experience makes us have the strong ability to meet different demands from our customers
Application
Remark
Pls tell us your valid input and output plugs if you don't know how to choose it.